Year End Promotion Training
As the end of year is approaching, School Of Professional would like to say Thank You to all our customer for your continuous support by registering our trainings throughout this year.
So, we'll be giving a Special Discounts on our Double Hot Course this December.
Sistem Pencegahan Kebakaran : Operasi & Senggaraan Berkesan (20 & 21 Dec)
Air Conditioning Systems For Non Air Conditioning Engineers (20 & 21 Dec)
It's time for all of us to take a break at the end of the year 2017 and enjoy the upcoming New Year celebration.
Don't miss out this Special Discount.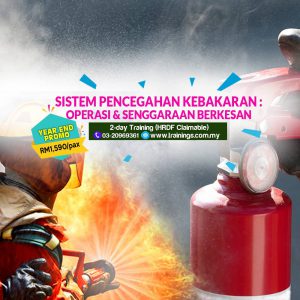 Sistem Pencegahan Kebakaran : Operasi & Senggaraan Berkesan
Program ini merangkumi aspek kebakaran dan puncanya, pemasangan dan operasi beberapa sistem lazim serta tentang senggaraan sistem pencegahan kebakaran. Sistem pencegahan kebakaran yang dipelajari adalah selaras dengan kehendak akta dan peraturan yang dipraktikkan di Malaysia, di samping merujuk kepada garis panduan yangdiguna pakai oleh Jabatan Perkhidmatan Bomba dan Penyelamat, Malaysia.
Objektif
Mengenal pasti mekanisme dan risiko kebakaran serta langkah pencegahan.
Menyemak operasi dan keberkesaan peralatan dalam pencegahan kebakaran.
Menjalankan ujian dan senggaraan asas sistem pencegahan kebakaran.
Mengemaskini maklumat tentang syarat pemasangan alat dan kehendak peraturan Jabatan Bomba dan Penyelamat Malaysia.
Mengenal pasti masalah (troubleshooting) sistem pencegahan kebakaran.
Sasaran Peserta
Jurutera dalam pelbagai bidang
Kontraktor CIDB
Pengurus Bangunan
Pengurus Penyelenggaraan
Juruteknik dan Supervisor
Pekerja yang terlibat di dalam penyelengaraan
Individu yang ingin menambah ilmu berkaitan sistem pencegahan kebakaran
Modul
Mekanisme Kebakaran dan Pencegahan
Akta, Perundangan dan Keperluan Masa Kini
Pencegahan Kebakaran Bangunan
Sistem Kili Hos dan Pancur
Sistem Pemercikan Air Automatik
Sistem Semburan Gas Automatik (Total Flooded)
Register Now!!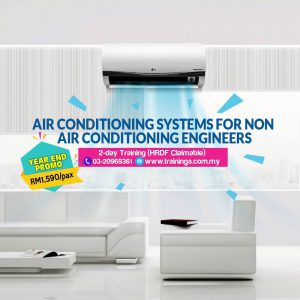 Air Conditioning Systems For Non Air Conditioning Engineers
This course is to introduce the concept of Air Conditioning systems. Air Conditioning system has become the main component in buildings. The participants will be exposed to the theoretical and practical aspects of the basic operation and the maintenance of split unit, package unit and chiller systems.
Objectives
Knowing the principle of Air Conditioning systems.
Being able to understand basic cycle & components of Air conditioning system.
Understanding the basic concept and influential factors of maintaining air conditioning systems.
Being able to monitor & plan preventive maintenance.
Being able to analyze the air conditioning system by using psychometric chart.
Who Should Attend
Engineers of all disciplines
Consultants and Contractors
Energy Managers
Building Managers
Maintenance Managers
Technicians
Modul
Principle of Air Conditioning Systems.
Basic Refrigeration Cycle
Basic Components of Air Conditioning system
Type of Refrigerant
Psychometric Chart
Type of system
Cooling Load Estimation
Piping and Ducting System
Electrical & Control Systems
Maintenance
Register Now!!
You can download the brochure from our Schedule and Contact us for further details.